Due to COVID-19 pandemic, the cities all over the nation has been under total lock down, all the working professionals need to work from home. In this newly adapted Work From Home culture, Zoom, A video conferencing application became a necessity for every one to remain connected with each other from their workplace. But, recently, a caution issued by the Govt. of India on the Zoom Video Conferencing application, suggests that the service leaks the personal and confidential data used during the video conference calls, left people almost no choices on alternatives (source). Many businesses were dependent on the Zoom service (being the most popular one) to keep working are in dilemma to decide work over privacy.
This blog post is to help anyone, who is dependent on Zoom conference application or any other video conferencing services, that treats your privacy with no value. There are many alternatives to the video conferencing application in the market. Each with their own pros and cons. Some alternatives are paid, some are free to all and some are open source while others are not.
---
TL:DR;
Don't worry if you are in a hurry to conduct a meeting, this post lists few available alternatives to Zoom in the market with their pros and cons. We have tried to keep the post concise and options listed, so that you can skim over and find the tool that you were looking for.
If you are looking for a service to host corporate and formal meetings, Jitsi hosted on your own server, or Enterprise plan provided by 8x8 are few of the options. They provides features to integrate calendar, lock rooms, record, live stream and much more if self-hosted. The hosted version on Jitsi Meet can be used for informal meets and discussions, which doesn't require any technical knowledge and registration as long as the participants agree to their privacy policy.
If you are an educator, teacher or an institute and wants a platform to teach online, Big Blue Button was developed for the community of educators and includes all the required features such as Learning Management System(LMS) integration with major providers such as Moodle. Big Blue Button also provides the breakout room feature required for group discussions.
Read Conclusion for more options.
---
Alternatives?
Zoom, video conferencing have been in popular demand by everyone in the times of lock down for working from home professionals. So what went wrong? Why do we need alternatives to Zoom?
After becoming the impromptu option for video conferencing, people started to face problems on Zoom, they never did before. For public meetings on Zoom, Zoom-bombing became is very common where few spam bots join the room and share obscene content on their screen. Beside Zoom bombing, privacy was a concern as well along with the security of the application. And with National Cyber Security Agency caution on the vulnerability of it, we need to look for alternatives available in the market. Spam attacks are also common in open Jitsi meetings and to prevent such attacks, we suggest to lock the room and share the link only to known group of friends.
After the issue brought up by the Govt of India, everyone is looking for alternatives to Zoom, video conferencing service, that is more secure and respects privacy better. There are many options available in the market, paid and free, open source and closed source, each with their own pros and cons. Some requires you to register to use the service, others don't, while many don't require you to register to join the meeting. We will list some of the alternatives for the Zoom, video conferencing, so that everyone can make an educated choice to keep their work unaffected. Both open source and closed source applications have their pros and cons.
Most open source alternatives can be hosted on your own server, which gives the more control on the data and privacy of users, but requires the knowledge of technical how-to for the setup and maintenance of the service.
While, many other proprietary services by corporates, albeit paid and gives less control on how your data is used, they doesn't require you to have any technical knowledge and are easy to access by anyone.
There are many other options available in the market, some of which are listed in the conclusions.
---
Jitsi Meet
Jitsi is a free and open source multi platform voice, video conferencing and instant messaging application. Using Jitsi doesn't require any technical how-to and anyone can host or join a meeting without registration. Jitsi meet, albeit free, provides a variety of features, such as Recording the session, live streaming on YouTube making it good choice for webinar and online events, as well as meetings. Many communities such as Hackaday and Local Linux user groups have moved to Jitsi for their weekly or monthly meet up which they live stream on YouTube as well.  Along with all these, Jitsi, supports locking the room with a password to prevent any outsider from joining the private meetings.
Many other messaging clients such as Riot.Im, an open source instant messaging client based on the Matrix protocol, provides inbuilt support for Jitsi meet and conferencing. Being open source, Jitsi can hosted on your own server and much more features can be enabled on self hosted version of Jitsi, that gives more control on user authentication and security, keeping all the data exchange safe from the leaks. Source code for the Jitsi can be found here.
Membership fees: Free to join and host meeting
Can be hosted on own server: Yes, it can hosted on your own server.
Data Ownership: No data leakage if hosted on own server.
Privacy?: Room can be locked to prevent outsiders from joining. Read the Privacy Policy here.
Registration required?: No registration required to Join and host meetings
Platforms: Linux, Windows, Mac OS, Web App, Android, IOS
Nextcloud Talk
Nextcloud is an open source private cloud alternative to the Google Cloud, One drive and similar services. Nextcloud ships with lot of utilities such as calendar, notes etc. Recent addition of Nextcloud Talk to the feature list, makes it well suited for companies that require to share the files and communicate via video conferencing on the same platform.
Nextcloud needs to be hosted on a server to be used and many organizations share the public instance freely with everyone for a limited space. It is a nice tool, with more control, feature integration of Nextcloud, a private cloud and data secure.
To try the Nextcloud and it's all feature, go to their demo page.
Membership fees: Free to use to free available Nextcloud hosting.
Can be hosted on own server: Yes
Data Ownership: No data leakage if hosted on own server.
Privacy?: Like a private cloud service, the communication is private.
Registration required?: Yes, on a Nextcloud hosted instance.
Platforms: Web App, Windows, Linux, Mac OS, Android, IOS
Big Blue Button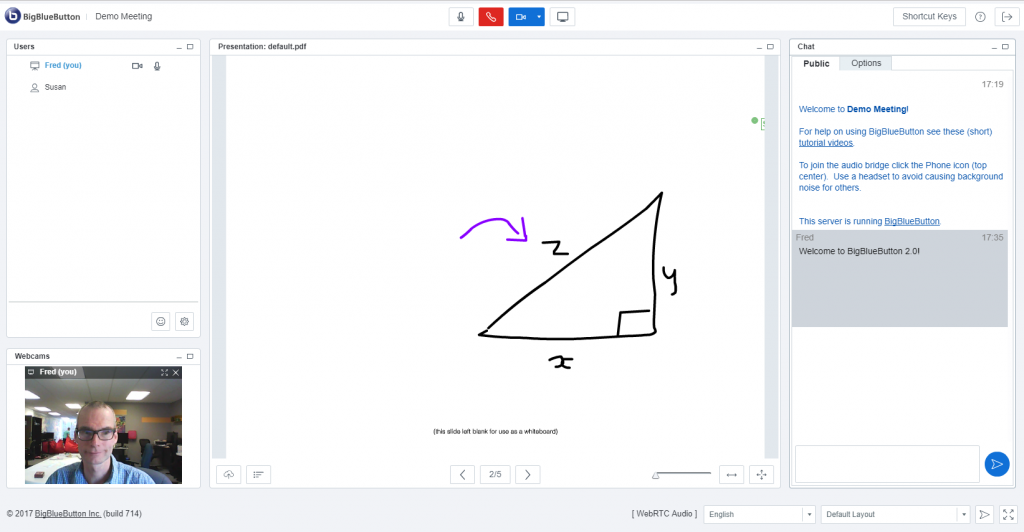 Big Blue Button is a web conferencing system designed for online learning, developed by a world-wide community. Being an open source application, it is well reviewed and is very popular among teachers for conducting online classes. Greenlight, another open source provides the front-end to the application, with features such as Personalised rooms, whiteboard, recording and user authentication.
Big blue button was developed to help the online learning and has deep integrations with most of the LMS such as Moodle and can be a good options for schools and colleges to keep the classes in more secured manner. It has the feature for breakout rooms, which is very much appraised in Zoom and thus makes a good alternative for many groups.
The features and demo can be found here. The source code for the project can be found on GitHub.
Membership fees: Free to join and host
Can be hosted on own server: Yes, follow the Installation guide
Data Ownership: Yes, if hosted on own server
Privacy?: Only authorized users can join a room
Registration required?: Yes, both for joining and hosting.
Platforms: Linux, Windows, Mac OS, Web App, IOS, Android
8x8
8x8 provides cloud solutions to business and have a video conferencing product, 8x8.com. The service is free to try and use on 8x8.vc and feels more like Jitsi meet, while the enterprise variant, 8x8.com feels more like any other video conferencing app made for enterprise use, such as Zoom and GoTo meeting. Both the services are free to use. 8x8.vc doesn't require registration to use the service, while 8x8.com require registration to host a meeting.
8x8 supports the development of Jitsi as well.
Membership fees: Free
Can be hosted on own server: No
Data Ownership: No
Privacy?: Please read their privacy policy
Registration required?: No registration required to join, but registration required for enterprise features on 8x8.com
Platforms: Windows, Web App, Mac OS, IOS, Android
---
Conclusion
There are many alternatives to the most popular applications and services to the popular video conferencing services, such as Zoom. And, you don't have to pay for few of the services, unlike for the services by big corporate, like Google Meet and Microsoft Teams. Alternatives range from Open source to closed source, from free-to-use to paid tiers for more features. Few applications even have games integrated in the platform such as in Talky, and HouseParty.
If you were to find any other service used for video conferencing not listed here, make sure to read the privacy policy and data usage terms before accepting them. This will help you know how your data is processed and if it's confidential or not. And no matter what service or platform you use to fulfill your video conferencing needs, always READ the PRIVACY POLICY. Because in the times like this, we can be forced to give away our privacy unknowingly which we will regret in the future. And, prevention is better than cure. No one wants this Dystopian reality to get any worse.
Looking for more options?
For more options for video conferencing with different features, following services can also be looked upon.
DiscordApp, is another popular project used for communication among friends and communities and is fairly popular among gamers can be used for video conferencing.
VideoMeeting with Hubl.in, is a free and open source video conferencing web application created by RedcoolMedia, and can be installed on your own server and allows upto 9 participants.
Wire, is an open source software that provides encrypted conference calls and doesn't store any data on the servers. They have plans for enterprise support and have features for file sharing adding to the productivity of remote working. It can be hosted on your own server and the source code is available on Github.
Cisco WebEx, allows limited number of participants in free tier with a useful collaborative white board feature, helpful in brainstorming remotely.
Gruveo, is a paid service, and allocates each user with a unique link which can be directly used to video call the person or team.
Talky: is a simple video and screen sharing application for a limited number of participants, upto 6 people, which requires no register to use the service.
Whereby: is a flexible tool allowing for upto 4 people, in its free tier, to join the meetings without login or download. The service provides more integration and features for different plans.
Bluejeans, is a paid service to create the service used for team meeting on video conferencing.
GoTo Meeting, is another popular video conferencing application, used for virtual webinar and business meetings.
Slack, is a messaging application used by many organizations to communicate allows one-to-one video calls and conference calls as well, along with the integration to many other services.
And there are always services provided by the big names, such as Google and Microsoft, though proprietary, they are easy to use and trust worthy among people. But as long as you have read their data protection and Privacy Policy, any service that keeps you working in these difficult times can be used.,
---
Sources